Print Custom playing cards in professional casino quality with cards and boxes as per your design layout. 
Your custom deck of cards can be made as per your requirements. Print personalized playing cards with the people who supply to casinos across the world.
 Our personalized deck of cards are casino quality, using paper or plastic sheets. We offer high quality custom playing cards at the very economical prices. No artwork or graphic fees added. No charge on proofs. Provide the artwork and we'll do the rest. No additional charges. Best quality with up to full color process on both sides.
We make all type of custom game cards and print card games for clients world wide. We specialize in Collectable Card Games with starter packs and booster packs. Booster packs can have any type of random gathering as required by you.
We have been making top quality custom playing cards since 1970. We hold stocks of European Playing Card paper and 100% PVC Plastic sheets. 
job orders are printed on CPC controlled, 5 color KBA Printing machines from Germany. We have 5 such machines installed in our production plant.
We print more than 100,000 packs of custom game cards everyday. These are not just photos as shown by other companies. 
 This is a movie showing 5 different KBA 105 printing machines at the print production area creating personalized playing cards and custom game cards. 
Each machine prints a minimum of Twenty Five Thousand sheets of custom decks of cards, board games, tarot decks, trading cards, custom game cards etc everyday during an 8 hour production shift. 
At any given time, we print and make a hundred thousand packs of personalized playing cards per day. Many of these projects are for the very popular party games and board games that we ship world wide.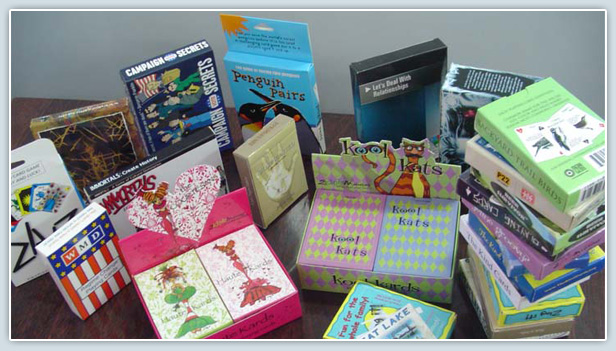 | | | | | | |
| --- | --- | --- | --- | --- | --- |
| | Card games | | Cards for games | | Generic Cards |
| | Promotional Cards | | Personalized Cards | | Casino Cards |
| | Tarot Cards | | Spanish Cards | | Trading Cards |
| | Collectible Cards | | Flash Cards | | Premiums |
| | Mass marketing cards | | 100% Plastic Playing Cards | | |
Design your custom playing cards and games with special effects.
You can take customized playing Card fronts with endless options.
You can be sure of our high quality.
No printing defects.
All cards have a perfectly even size.
Cards coated with an extra smooth Cambric finish.
Global Sales
The Ace Card Company delivers shipments to almost 40 countries worldwide. We are here to assist you to make your projects easy and convenient.
Careful Packing
Our expertise and experience makes sure that your order arrives in perfect condition. Special packing protection is provided where ever necessary and your playing cards are packed by the safest method for the product and destination concerned. Each order is checked and double-checked before being handed over to the air or sea-shipping department.
Type Of Packing
From wooden cases to strapped cardboard containers, to strapped veneer boxes, to our standard extra strength 5 or 7 layer cardboard boxes. We always use the right packing for your local conditions. Our cards are packed in extra strength three wall protection boxes.
Reliable Shipping At Low Cost
We deliver wherever you are. We have shipping arrangements to more than 40 countries using only the most reliable shipping lines, airlines and forwarding agents. Tons of shipments every month give us and you, a high standard of transport and low cost.
Personal Contact
The Ace Card Company is as close as your phone, fax or personal computer. We can supply your customized playing cards and Personalized playing cards packs to perfection.
Any custom playing cards or custom game cards project with any type of cutting and collating requirements can be undertaken as per specifications. Any type of rigid game boxes can be produced as per specifications.

Our automatic cutting/collating plant can gather from 10 cards for a card game to up 500 to 1000 cards for a party game like Cards Against Humanity. All card game sets shall be automatically cello wrapped for further packing into tuck boxes or to your board games. Our production capacities enable us to offer different packaging options.
From a standard tuck box to double deck boxes to rigid game boxes for holding up to 500 cards. You can take the cards in an expandable rigid box. Accessories like the inserts, cavities, instruction sheets, booklets, stickers, and counters etc are all manufactured in-house.